Thursday, 01 February 2018
02 Pacific Power: Coexist with Cancer Peacefully
I believe that there are ultimate tips for "healthy longevity".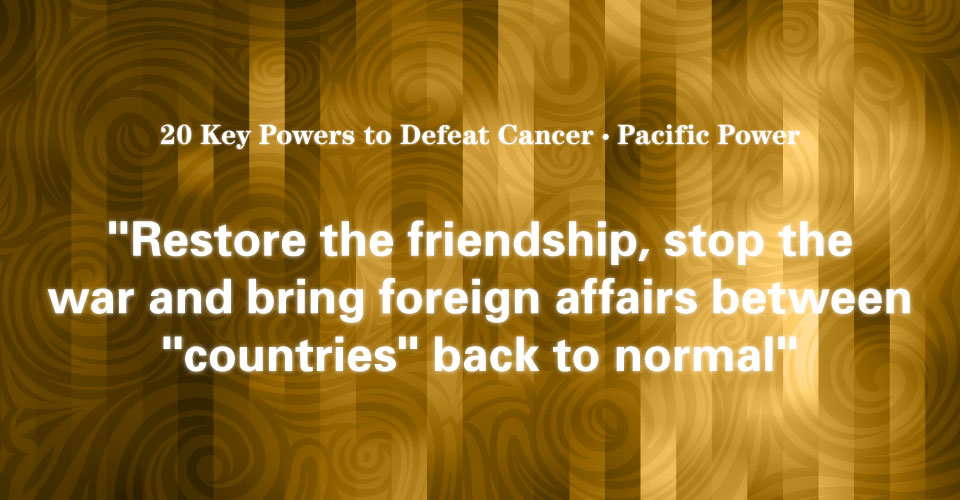 " I will be immortal!" - An old women who fought cancer peacefully
I founded the "Slow Health Research Association" and served as the Chairman. In this cancer association, we have a lot of members who are cancer patients and their families. Many doctors and the media often join our activities. This association can be said to be an organization of the "dove faction". We organize several naturopathic vegetarian dinners each year for exchanging information. Ms. Samejima Junko always has articles published in the association's quarterly magazine, "Life Guide Book". She is the granddaughter of Mr. Shibusawa Eiichi, a well-known Japanese industrialist of the Meiji Restoration era. Even though she is 84 years old, she actively publishes her articles and lectures. Ms. Samejima is also an energetic social dance master. Ms. Samejima's husband passed away with esophageal cancer few years ago. Her husband was the typical model of the "dove faction".

Ms. Samejima and the Taiwanese TCM authority, Ms. Shu-Chi Chuang, who promotes the Universe Strength Exercise (防癌宇宙操) for cancer prevention, composed a book "Universal Health Approaches ─ the health regimen wisdom of Chuang Shu-Chi" 《宇宙健康法─庄淑旂的养生智慧》 (China Times). In the book, Ms. Samejima used as the topic: "Embrace a closing form, make a promise for a spiritually prosperous future for yourself" to show her husband's positive attitude when he was facing death. Samejima's family accepted Ms. Chuang's advice not to receive a brutal surgery. In early summer, the whole family went traveling around Oirase Mountain Stream and Hakone. In the autumn, when the leaves turned red, they went traveling in Kyoto. Samejima, her husband and her family enjoyed these wonderful and relaxing times for 18 months. Two weeks before his death, her husband did not inject the nutritional supplements Ringer's solution. He only relied on water to survive since they had already made up their minds to use a naturopathic regimen approach. Therefore, he did not feel pain but inner peace. I heard that on his deathbed, he said, "Thank the long journey of life; it let me live on with happiness and love until now." "I will be immortal!" And then he left the world peacefully and calmly.
Do you belong to the "militant faction" or the "dove faction"?
At the beginning of my treatment period, I used the anticancer drugs Cisplatin + 5FU and LINAC radiotherapy for one and a half months. In the following month, I had additional RALS radiotherapy in vivo. I was suffering from the pain caused by the side effects. Meanwhile, I indulged in being a "rebel against the war on cancer". No, I should say a "militant". Fortunately, I brought my laptop with me to the hospital and I did some research on the Internet. I realized and understood that we could use our own immunity and naturopathy to inhibit the attack of cancer cells. In other words, there was a treatment of "peaceful coexistence" with cancer cells. It is the story that I have mentioned before: by taking the combination of TXL (the anticancer compound Chinese medicine) + "SOD" (the nutritional supplement), my 6 cm tumor disappeared.
In an actual war, peace negotiations mean "to restore friendship, stop the war and bring foreign affairs between countries back to normal". As with a diplomatic war or an economic war, cancer treatments can be divided into two kinds: the "militant faction" and the "dove faction". Most people will listen to the hospital's and physician's opinions. They believe that "militant is correct" but treating cancer is different from treating a cut, a wound or a malignant tumor. Using "challenging behaviors" such as "resection", "termination" and "burning" does not mean a full recovery ── this is my experience over these ten years.
"Know how to compromise with cancer, coexist with cancer peacefully."
After surgery, a series of surgery, radiotherapy or chemical medicines, many patients with cancer pass away in agony. In contrast, I am deeply moved by Ms. Samejima's experience and revelation. I am more convinced than ever the need to implement and employ the concept of the "dove faction".
For some cancer patients who recently came and asked for my consultation, I recommended to them not to panic, not to give up and not to worry. "You have to know how to compromise with cancer", "Coexist with cancer peacefully" and "You are not going to cure it; but be reconciled to it". You also need to have a "grateful mind" about everything. Then you can coexist with cancer, under these peaceful psychological preparations. How are you to enhance the self-immunity system and naturopathic self-healing power to enrich your strength and stamina?
I constantly repeat how to use food and a Chinese herbal medicine approach to enhance power and vitality. Let life "softlanding" (软著陆) ── means we have to "walk with cancer" as a way of thinking. Maybe it is as hard to understand this concept as it is to understand a religion; many others are still confused and puzzled. Even though we are living in the era when people have longevity but are prone to unknown and severe diseases, I believe that there are ultimate tips for "healthy longevity".
_____________________________________________
Sekine Susumu
Chairman of SlowHealth Research Association
Chief Editor of Life Guide Book
Professor Emeritus of Changchun University of Chinese Medicine, China
♥ Follow our facebook page for more information: https://www.facebook.com/tianxian/
Other Information Sharing :