Thursday, 01 February 2018
07 Lethal power: The Lethal Effects
Taking TXL could reduce the side effects...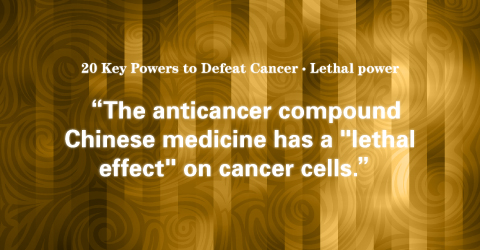 The Anticancer Compound Chinese Medicine Has "Lethal Effect"
It is difficult to understand the anticancer mechanism associated with crude drug ingredients and its corresponding pharmacological effects in traditional Chinese medicine. From the Western point of view, traditional Chinese medicines are "non-scientific products lacking certification". This is the reason why traditional Chinese medicines have difficulty being identified as medical drugs in countries such as Japan and the United States, which have strict medical regulations and systems. In Japan, even TXL is still not yet certified and approved of as an official medical drug.
 
Since the Ministry of Health in P.R.China certified the early version of TXL (former name, Compound Tian Xian Liquid Capsules) as the first anticancer drug of traditional Chinese medicine, one after the other, governments around the world have gradually recognized and approved the efficacies of TXL. (Please refer to Chart 8) For example, in developed countries with high-tech cancer treatments ── Australia's Drug Administration (TGA) and the Food and Drug Administration of Thailand have certified TXL as a medical drug; the Department of Health in Taiwan has approved it to be listed in local markets as a food item.
China is not the only country which conducts scientific tests on traditional Chinese medicines. In fact, many university hospitals and research institutes around the world study traditional Chinese medicines, conduct scientific tests and publish reports. Especially a medicine as unique as TXL, with its high standards and long-term development, it has been put through many studies. First, let me introduce you to the pathology and the clinical trials which some countries have completed.
Verifying "Self-destructive Effect" and "Lethal Effect" of TXL on Cancer Cells
As for the above-mentioned pathology, clinical trials and research papers, Dr. Sun and the NTUH research team's work was published in the Journal of Alternative and Complementary Medicine (ACM), and attained the world's focus and attention. Not only did the paper provide an effective demonstration and evidence of the "anti-tumor activity" and the "immunomodulatory effect" of TXL; it also verified that TXL had significant effects on "apoptosis" (naturally programmed cell death) and a "direct lethal effect".
(Dr. Andy Sun)
Professor at NTUH, Dr. Andy Sun has been studying the immune regulation of Chinese herbal crude drugs such as Ginseng, Ganoderma lucidum, Bezoar, Garlic and others. Focusing on the anticancer efficacies in TXL, Dr. Sun conducted five years of research into "the immune and anticancer effects of TXL".
Anticancer compound Chinese medicines employ a large range of Chinese crude drugs, and so, were considered lacking in scientific verification. TXL, however, has been tested and certified effective. The results and conclusions may be summarized in three ways:
(1) Anti-tumor activity
(2) Immunomodulatory effects
(3) TXL effectively induces apoptosis in cancer cells (naturally programmed cell death)
■The Therapeutic Effects on Terminal Cancer of Taking TXL Alone
In China, in places such as Beijing, Jilin, Tianjin and in other regions, more than thirty medical institutions held clinical trials to study the effects of taking TXL. These clinical trials focused on three kinds of terminal cancer: "esophageal cancer, stomach cancer and colon cancer", and in total, 696 case studies were in place. The results showed that 620 cases qualified, according to the Chinese Experimental and Therapeutic Evaluation criteria for cancer in a stable stage. The effective rate was high, especially for esophageal cancer, where the highest effective rate was 89.3%. Moreover, the effective rates for "terminal lung cancer, terminal liver cancer, tumors, terminal breast cancer" and so on are shown.
■The Effects of Combining TXL with Radiation to Treat Esophageal Cancer
In this study, TXL was combined with different degrees of irradiation to treat patients with intermediate and terminal esophageal cancer. In looking at the clinical data, the TXL combination demonstrated higher effectiveness. That meant that TXL is good at inhibiting esophageal cancer.
■The Effects of the Combination of TXL and Anticancer Drugs and Using Anticancer Drugs Alone to Treat Esophageal Cancer
In this study, one TXL-group and another non-TXL-group were set up to observe the ultimate therapeutic effects of administering the combination of TXL and anticancer drugs (chemotherapy) to treat intermediate and terminal esophageal cancer. The results showed that TXL could increase the short-term therapeutic effects on, and the therapeutic rate of, esophageal cancer. Meanwhile, the side effects caused by the anticancer drugs, such as bone marrow suppression, were significantly reduced. In clinical trials using a combination of TXL and anticancer drugs, the outcome using TXL was impressive. In the short-run, lung cancer and lymphoma could be eased. Indeed, the result of using a combination of TXL and anticancer drugs increased the cure rate by 22% for esophageal cancer.
■Taking TXL Could Reduce the Side Effects Caused by Radiotherapy
According to proof of such clinical trials, taking TXL could reduce the side effects caused by radiotherapy and anticancer drugs. It could relieve side effects such as emesis, hair loss, leukopenia and thrombopenia. For cancer patients, inhibiting or reducing side effects is a relief as it reduces and eases both physical and psychological pain. As long as they experience no mucositis and nausea, the side effects which disturb patients during eating, naturally their appetites will increase. Respectively, patients' strength will come back. Furthermore, when the phenomena of leukopenia, thrombopenia and decreased hemoglobin are eased, then immunity will return and actually increase to inhibit cancer cells.
The Research Report of Robert W. Bradford, M.D., Director of the Bradford Research Institute (BRI) of the United States
In the process of a study about the eliminating effects of reactive oxygen and lipid peroxidation in TXL, the pioneer of "reactive oxygen" research, Dr. Robert W. Bradford (Director of BRI in the United States) proposed that the anticancer efficacy of TXL was related to its high antioxidant capacity. Therefore, Dr. Robert W. Bradford started laboratory tests with several international research teams dedicated to the following studies:
(1) A study on The Toxicology of TXL
(2) A study on The Inhibitory Effect of TXL in the Transplantation Sarcoma S180 and Hepatic Carcinoma in mice
(3) A laboratory test on whether TXL Impacts the Nonspecific Immunity of Mice
(4) A laboratory test on The Eliminating Effect of TXL on Oxygen Free Radicals
In conclusion, Dr. Robert W. Bradford summarized the results of TXL for the international research teams he led as follows:
 
"My most important assessment of TXL is that it contains a reactive-oxygen-capacity to reduce the important elements which cause cancer. Since a portion of the ingredients are confidential and there are very many ingredients, we are not sure which ingredients cause which specific effects. But we are sure that the use of TXL can inhibit the proliferation of cancer cells, increase the prevention of cancer cell metastasis and cancer recurrences, and ease side effects."
_____________________________________________
Sekine Susumu
Chairman of SlowHealth Research Association
Chief Editor of Life Guide Book
Professor Emeritus of Changchun University of Chinese Medicine, China
♥ Follow our facebook page for more information: https://www.facebook.com/tianxian/
Other Information Sharing :