Thursday, 01 February 2018
02 Pacific Power: Pacific Instead of Militant
Their destiny relies on their different choices, and changes they make...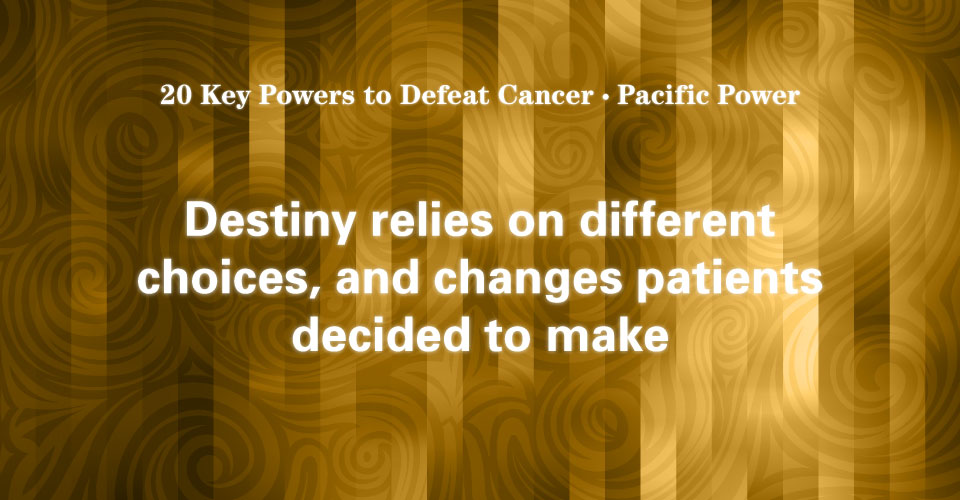 A Hero Who Endured "Two Metres of Surgical Scars on His Body"- An Unknown Destiny
An esophageal cancer patient was admitted to the hospital at the same time as me. We were of a similar age, and we had the same attending doctor. He chose to receive an esophageal surgery. I tentatively called him "Mr. Hero"; maybe because he was a football player when he was a student, he was not afraid of a 10-hour-long major surgery. I could say he was the tenacious and fighting type when facing cancer. After his surgery, he was suffering from squealae. After not yet half a year, he had a recurrence of cancer and he received surgery again. Unfortunately, the cancer cells soon spread to his mouth. He could only remove his jaw bone and a thigh bone was used to replace it. However, he wound up with an ulcer and in the end, he was installed with artificial, titanium alloy bones. I can say that his life was horrible and gloomy. The worst part is that he passed away just four years later. According to his family, the surgical scars left on Mr. Hero's body totaled about 2 m long. Regardless of the terrible medical treatment in hospitals, I am completely dumbfounded.
"Don't Get Panic, Don't Give Up and Don't Worry"
On the market, there are a lot of books talking about cancer, and most of them have such heroic, combative and fierce titles about the cancer battle. For example, "Fierceness! Heroic Battle Against Cancer, I Won", "The Anticancer Journals of Survivors Escaping From Death", "Anticancer Combat History - 00 Days in Tears" . In addition, we can easily to get information about cancer, locally and internationally, through the Internet, so we understand that, in fact, most large hospitals can only reach a maximum level in cancer treatment. Now, a lot of families question hospitals regarding the many fatal cases which may not be caused by factors related to cancer. They are caused by side effects and complications in cancer treatment, not infections caused by medical negligence.

Many patients are determined to incorporate Chinese herbal medicine, rhythmic breathing, regimen therapy and nutritional supplements. In an extreme anticancer combat strategy, destroying cancer cells or tumor resection is not the only way; rather, coexist with cancer in order to survive and prolong life. I believe that more and more people have the same idea as I do.
In the beginning, when I knew I had cancer, whenever my blood test indicators rose slightly, it caused a little bit of chaos between the physicians, nurses and myself. Soon I realized that when the seasons changed, human bodies would change too, and so my blood test indicators followed and moved. Later on, I tried to go to the hospital less, unless I could not tolerate my pain.
Of course there were several commotions regarding: "Have my cancer cells metastasized? Has my cancer recurred?" But I had decided to use Chinese herbal medicine and regimen approaches for my focus; let my body be filled with invincible "life prolongation power". So I firmly told myself, "Don't panic, don't give up and don't worry". In other words, I decided to combine the gentle ways of treatment and life prolongation power, to treat myself.
In the Anticancer Factions, Are You A "Militant" or A "Dove"?
The physicians in the large hospitals warned me, "You should not use a treatment that has never been tested." I admit that there are many successful cases; patients who went through terrible seppuku-like surgery or endured the torment caused by anticancer drugs, and finally survived. For this reason, I do not force everyone to accept my life prolongation treatment. Since I have been dealing with cancer for a long time, I understand that cancer patients can divided into two kinds.
· Militant faction = actively challenging the tumor with resection, anticancer drugs and chemotherapy.
 
· Dove faction =trying not to hurt organs; enhancing naturopathic self-healing power and immunity.
Life has all kinds of encounters, and patients have numerous treatments they can choose from. Their destiny relies on their different choices, and changes they make. I have a lot of friends and predecessors with cancer around me, and they were as healthy as athletes before. Most of them chose the seppuku-like surgery and needed to lie on the operating table several times. I saw their demeanors and I was really surprised. They are typical of the "militant faction". 
Newspapers often have news about anticancer stories. Of course, some survivors have undergone surgery five or six times. I really admire those patients with strong stamina, and their extremely skillful physicians. They are to be considered the lucky cases. There are unlucky patients too, however they are limited by money or time. Sometimes patients might meet immature, unskillful or even rude physicians who control scalpels and double-up on anticancer drugs to deal with cancer cells. Consequently they shorten lives, and then say something similar to, "You only have half of a year to live, so you had better go into hospice care." They even take away your last strength for living on. I deeply feel and understand this unbearable anguish. Therefore, I have chosen a "pacific but militant-like" approach to cancer.
_____________________________________________
Sekine Susumu
Chairman of SlowHealth Research Association
Chief Editor of Life Guide Book
Professor Emeritus of Changchun University of Chinese Medicine, China
♥ Follow our facebook page for more information: https://www.facebook.com/tianxian/
Other Information Sharing :