Thursday, 01 February 2018
03 Anti-aging Power: Challenge Anti-Aging
Through the writer Mr. Kyu Eikan, I became a miracle cancer warrior...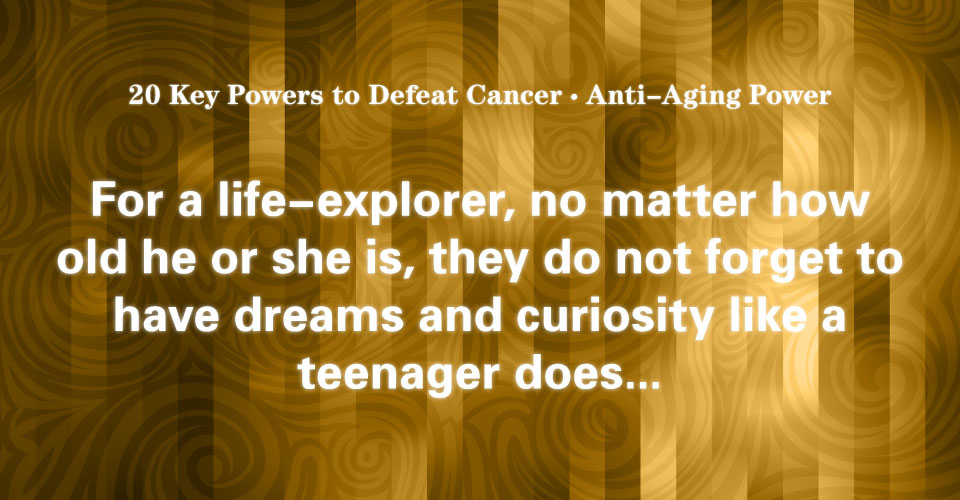 I told Mr. Kyu Eikan about all my experiences with Chinese herbal medicine in China and Hong Kong. Mr. Kyu Eikan was a writer whom I respected while I was still a chief editor. Mr. Kyu was very shocked by my story, and that I could be healthy and have survived. Mr. Kyu is a Naoki Prize-winning writer, and has been called the "God of Business" (in Chinese, 「经营之神」). He is well-known for developing business opportunities in growing China. When compared with others, he is a health expert, paying double attention to his health. Even though he is now eighty-four years old, he is still ruddy and healthy. Since that time, Mr. Kyu has shown an interest in the anticancer compound Chinese medicine Tian Xian Liquid.
Use the Internet to Search for Clues to Treat Cancer"
He introduced me as the "miracle cancer survivor taking mystery Chinese medicines" in his books and blogs.Here is Mr. Kyu's report and description:
"The current common sense maintains that even though you undergo surgery or radiotherapy, you still may not be saved...However, I heard that a doctor, ZhenGuo Wang, is using herbs grown on ChangBai to produce TXL. Many people have been cured after taking it in China...The most incredible thing is that people have recovered just by taking it for more than two months...Since this was not my personal experience, I cannot surely say that this medicine can absolutely provide a cure. I often write serial columns for "Weekly POST", and such serial columns can be published into several books. The former Chief Editor of "Weekly POST", Mr. Sekine Susumu, is a cancer patient. I witnessed Mr. Sekine when he was desperate and lost, back at the beginning when he was diagnosed with cancer. Now he has come back from hitting bottom, and has regained his energy and health. I repeatedly rubbed my eyes, several times, to make sure this was true. To learn more, please ask Mr. Sekine."
Mr. Kyu's investment information website, "Hi! Hi! Lao Kyu" also called "HIQ" was a very popular website (website address: http://www.9393.co.jp/), it had over one hundred thousand people click to view it a day. For this reason, I later became a famous "one-of-a-kind enmei cancer survivor". Sometimes, I would meet people who admired me in different places; some people would frown at me, and some of them were surprised when they saw me. But anyway, it was true that I was the main character of "No surgery for cancer, you will have 10 more years!" Maybe this was the reason that other could not disregard me, the "enmei cancer survivor" who broke with the common norm. Sometimes, the surgeons from the University Hospital would maliciously abuse me and say, "You are just lucky!" or "You are just one of a small number of anomalous cases." My only response was to sarcastically smile.
The Power of Longevity
Mr. Kyu has tried many Chinese medicines and their magic powers. He is eighty-four years old but his body seems like it is concealed within the energy of longevity and anti-aging. Every year in March, I will attend his birthday party. I am so surprised every time I see him because he is always strong, ruddy and eloquent.

Reports say that if patients do not have a cancer recurrence within five years, they can have temporary relief. I have been clear for over five years, and even Mr. Kyu, who is a very cautious person, believes in this "magic power" I have. He wrote a book, "The Magic of Chinese Medicine Technology" (Chinese name《神奇的科技汉方─天仙液》). In his book, Mr. Kyu recorded our real life conversations. In a "HIQ" special column, Mr. Kyu also used the title, "Chapter 1127 TXL── Twice Miracles Have Surrounded Me" to write the following article:
"Recently, one thing surprises me. I think all of you know Mr. Sekine Susumu, the current writer of the health column, "Pay Attention, Everyone Has Cancer Cells" on my website. Mr. Sekine is the former Chief Editor of "Weekly POST", which has published one million issues. Before, he worked day and night, regardless of his life being extremely irregular. After he retired, he was diagnosed with esophageal cancer. Others advised him to have surgery but he thought that almost all cases of esophageal cancer surgery had bad results. So he resolutely refused surgery, and he searched for other, better treatment methods through the Internet. The result was that he found reports introducing the Chinese herbal medicine TXL. In a report, there was a traditional Chinese practitioner who lived in Tonghua City, located in the Changbai Mountain District in front of Changchun City. He deployed a Chinese herbal medicine, TXL, and saved the lives of many Chinese cancer patients."
"He is now fully recovered. Five years have passed and he has no sign of cancer recurrence. He is healthy and vital, going a lot of places, such as Dunhuang, Lhasa and Taipei. I witnessed his amazing experience. I thought that his story could help others who have similar worries. Therefore, I invited him to pen the "HIQ" column. Probably, many people feel a resonance with Mr. Sekine. So far, his articles have been popular, with good reviews. He also has set up a fan club for it. I heard that it was bustling with excitement."
Never Give Up on Yourself
Mr. Kyu also told us the story of his brother-in-law, who was living in Canada and who "magically recovered". He also posted an article in his "HIQ" column. In the article, he revealed his personal method for increasing his own anti-aging ability.
"My wife's brother was born in 1924, the same year as me. I can say that we are in the final stages of our lives. When we called him, he was inarticulate and could not respond to us well. The situation was so that no one could understand what he was saying. My wife suddenly remembered TXL; she immediately phoned their world distributor in Hong Kong. The chairman (president) told us, "They don't have a Canadian distributor so they will send the products to him from the United States immediately". My brother-in-law was dubious about starting to take TXL. After one week, we understood what he said over the phone. He told my wife that it might be fate that they not see each other again. My wife flew from Hong Kong to Toronto to see him immediately. The result was that he was vital and healthy, so my wife flew back home."
The Anti-aging Power of "Health and Longevity Expert"
Mr. Kyu is a "health and longevity expert", and he is called the "God of Business". He and Dr. ZhenGuo Wang have become friends and are getting familiar. I heard that he offered many suggestions on the products, and not only TXL, about the Chinese herbal medicine that Dr. Wang studies. Mr. Kyu is personally continuing toward the challenge of "immortality". He posted all the powers and results of the Chinese herbal medicines on his blog. Many readers, including myself, are so excited and cannot wait to read his writings.

If we are saying that the effects of Western medicine are limited, so the wisdom of Chinese medicine definitely surpasses Western medicine. For the eighty-four-year old Mr. Kyu, he will never stop in the pursuit of all potential and possibilities. I believe that he is a real "life-exploration" expert.
For a life-explorer, no matter how old he or she is, they do not forget to have dreams and curiosity like a teenager does. They own life prolongation power. No, I should say anti-aging power──I believe that Mr. Kyu is actually the type who I respect, and he is my mentor forever.
_____________________________________________
Sekine Susumu
Chairman of SlowHealth Research Association
Chief Editor of Life Guide Book
Professor Emeritus of Changchun University of Chinese Medicine, China
♥ Follow our facebook page for more information: https://www.facebook.com/tianxian/
Other Information Sharing :